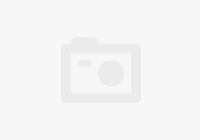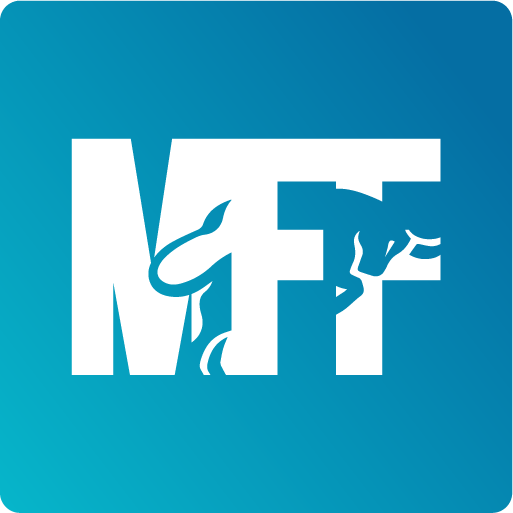 Popular
My Forex Funds
FxBul.com
1440
Funding Firms
Add to wishlist
Added to wishlist
Removed from wishlist
6
Add to compare
Summary
My Forex Funds is one of the Canadian-based professional investor funding firms established in 2020. Like all investor funding companies, it aims to provide joint income for both the investors and the firm by providing capital to successful investors.
The general purpose of professional  funding companies is to evaluate investors who are consistantly profitable and help them by lending capital to trade. Each funding company takes a certain percentage of commission from the investor's overall income. This rate varies from company to company. In doing so, it limits investors within the framework of a series of rules.
There rules can be as follows,
Total capital loss restriction (Total drawdown)
The firm allows the investor to lose a certain percentage from the maximum equity reached by the account during the trial period or in the real account. This rate is 12% for My Forex Funds accounts.
For example; If you're trading an $10.000 account you're not allowed to lose more than $1.200 which is 12% of your initial balance.  In the other hand, assuming that you reach $14,000 with your $10,000 account by making successful trades, if your unsuccessful trades reduce your account to below $12,320 (14,000-12%), you'll lose your account although you're positive $2,320 in total. Drawdown is constanly recalculated as the account reaches new equidity highs and running trades are also considered in this calculation.
Daily capital loss restriction (Daily drawdown)
Just like the total capital loss restriction, you also have a daily capital loss limit. This rate is 5% for My Forex Funds accounts. To put it simply, you're not allowed to lose more than 5% of the balance at the start of the trading day. Just like total capital loss restriction, both closed and active transactions are taken into account for this rule.
For example; If your balance is $15.300 at the starting of the day, you'll lose your account if you drop down to $14.535 which is a 5% drawdown.
Number of transactions per week
You are obliged to open a minimum certain number of trades in one trading week. Different programs have different transaction number limits. You can find the current limits at the time of the review in the account types section.
Total trade target
Firms have imposed an obligation to open a minimum certain number of transactions in total. Different programs have different transaction number limits. You can find the current limits at the time of the review in the account types section.
Profit Target
This restriction is usually found in trial accounts, the company gives you an profit target within a certain period of time. For example, for MFF evaluation accounts, this rate is 8% return in phase 1 and 5% return target in phase 2. You can review the details in the accounts area.
---
back to menu ↑
Trading Accounts
My Forex Funds have 3 different programs for you.
Rapid (for beginner traders)
Evaluation (for experienced traders)
Accelerated (for professional traders)
Account Types & Features

---
back to menu ↑
Registering an Account
It is possible to open an account from all countries except Canada. Follow the steps below to register a new account at My Forex Funds.
First, decide which program you want to attend. If you want to start with real account without attending the testing phase, you should choose Rapid or Accelerated accounts. With these accounts, you start directly with the real account, but the commission deducted from your earnings may be higher.
If you don't want to pay this much commission then you need to prove yourself. In Evaluation accounts two trial phases are applied, the first phase with an 8% profit target, and the second phase with a 5% profit target. If you successfully complete these stages, you can switch to the real account and collect 85% of your income.
Our example would be for the Evaluation account.
After choosing the program you need to choose your capital size. As the capital grows, the participation fee you have to pay for participation will increase.
Select your desired capital and you'll be directed to pricing.
On this page you also need to select your trading platform. After the selection, you must click the "Register" button and click the "Proceed to Checkout" button on the next page.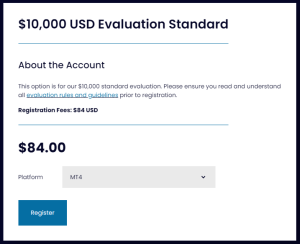 Finally, since you are not a member, you will be directed to the page where your personal information must be filled.
You can fill your information and pay by credit card or cryptocurrency.
---
back to menu ↑
Deposit and Withdrawal
One of the most important advantages of the firm is that it allows you to make both registration fees and withdrawals with cryptocurrency. In this way, you can transfer your income without paying almost any commission.
---
back to menu ↑
Trading Platforms
You can trade using MetaTrader 4, MetaTrader 5 and the mobile platforms of these programs at My Forex Funds.
---
back to menu ↑
Products, Spread and Commissions
My Forex Funds generally offers average spreads. You can check the screenshot of the products of evaluation account taken during mid London session below The column titled with an exclamation mark is the spread in points (10 points = 1 pip) This account also includes an extra commission based on the transaction volume . When evaluating the spread rates, you should consider that you'll be charged some commission and spread together.
Tradeable Products and Spreads
---
back to menu ↑
Customer Service
My Forex Funds customer service helps customers via e-mail, live chat and Discord channels.  You can email to support@myforexfunds.com for support. Live customer service responded rapidly (less than 2 minutes)
---
back to menu ↑
Conclusion
My Forex Funds is one of the leading companies of funding companies that have become increasingly popular in recent years. There are many options according to your needs and the capital you want. We can see that the participation fees of these options are more affordable than rival companies. There is no demo version that you can use to test trades and order flow. On the other hand, we can say that the spread rates of the account we tested are slightly higher than that of competing companies. There are many investors in the market using My Forex Funds. It stands out as a company that allows transfer and payouts using cryptocurrencies, quickly and smoothly.
Tags: is My Forex Funds reliable, is MyForexFunds reliable, is MyForexFunds safe, is My Forex Funds safe, My Forex Funds review, My Forex Funds reviews, My Forex Funds entry, My Forex Funds demo, My Forex Funds comments, My Forex Funds users, My Forex Funds register, My Forex Funds open account, My Forex Funds login, My Forex Funds contact, is My Forex Funds regulated, My Forex Funds forums, My Forex Funds experiences, do you recommend My Forex Funds, My Forex Funds user reviews, My Forex Funds thoughts
Specification:
My Forex Funds
| | |
| --- | --- |
| Location | |
| Trading Platforms | MT4, MT5 |
| Tradeable Products | Forex, Commodities, Indices |
| ECN Order Processing | Yes |
| Number of Products | 74 |
| Leverage | 1:500 |
| Islamic Swap-Free Account | Yes |
| Minimum Deposit | $49 |
| Money Transfer Options | |
| Multilingual Customer Support | No |
| Micro Lot Trading (0.01) | Yes |
| Spread Index | 2.1 |