Entry
Since 2011, the cTrader platform has undergone many changes. In this cTrader review we will try to focus on its current features. Although the past is important, most reviews you may find on the Internet are related to older versions of cTrader and may not include current features.
cTrader is considered to be one of the first competitors designed to compete with MetaTrader4. At the time of CTrader's launch, what really made the platform stand out was the capabilities of the STP (through direct processing). This was something MT4 could never manage itself, and traders wanted a real STP or ECN trading platform. This desire was hard to achieve at the time because of the lack of regulation and awareness
---
Main Features
cTrader stands out with its fast and useful features. This is very important for something you will work for hours. Other platforms, such as MetaTrader4 and MetaTrader5 in particular, are inadequate at large resolutions. With the increased use of widescreen monitors, investors are seeking programs that will look right at large resolutions. We can say that cTrader is more successful than its competitors. As a platform, cTrader is not only modern in appearance, but also follows many modern applications. Most important of all, cTrader ID will be the only account approach. This allows you to have a single account that allows you to access your individual accounts from different brokers and save your settings in the cloud.
The simplest thing we can say about cTrader is that the platform has all the features any trader would need. Charts are filled with many types of timelines, indicators, objects and tables, including tick and renko charts. Any technical analyst will be satisfied. cTrader also offers a variety of order types, including the more rare ones, such as Market Range and Stop Limit Orders. The platform has a QuickTrade mode, ideal for scalping traders. Another great tool for scalpers are indicators of market depth.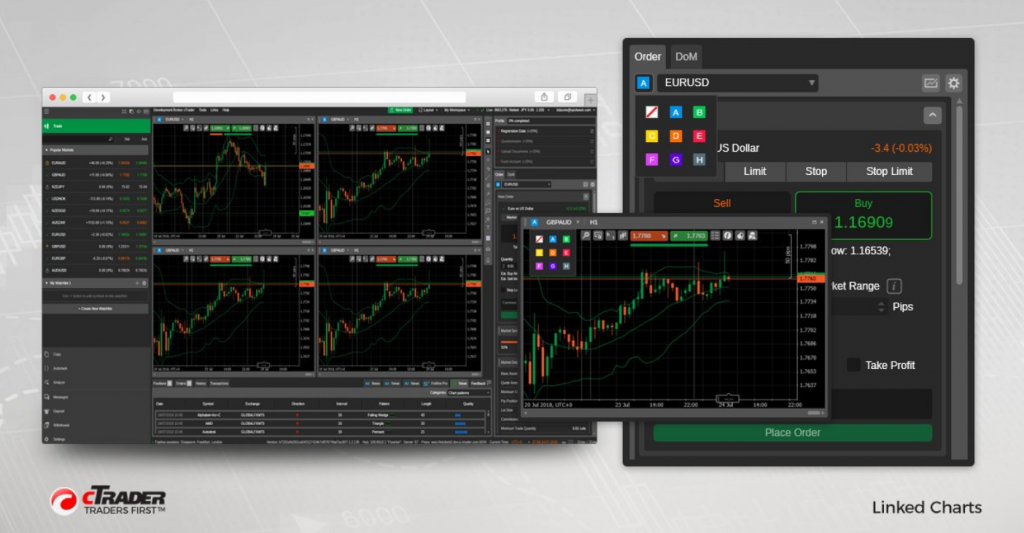 ---
cTrader Copy
cTrader is also provides a feature equivalent to the PAMM (percentage allocation management module), which is the copy trade infrastructure of Metatrader platforms. cTrader Copy is a great place to explore and study different forex traders and trading strategies. Once you've found a strategy you'd like to follow, money can be transferred from your main trading account to a sub-account. Then the subaccount will copy the strategy and perform the trades. This is a much safer approach than giving your money to a money manager. Because in this system, your money is held in your own account, only the transactions of your preferred investors are copied in your account. You have full control over your money and you can exit CTrader Copy at any time. cTrader Copy also provides money managers with advantages such as the access to active audience who shop for profitable strategies.
---
Trade Automation
MetaTrader4 had no rival in the trade automation field for years. They did this through MQL4 language that traders use to code their trading robots. cTrader on the other hand has an API. In CTrader, you can create your robot with c # and your robot will match cTrader via the automatic API. The API is expanding and getting better with each release. It is very difficult to find a feature that you can do with MT4 but can't do with cTrader. Since you can prepare your cTrader bots in common programming languages such as C #, you first need to master these programming languages and improve yourself. This information will be useful not only in the construction of cTrader bots, but also useful in coding different softwares.
---
cTrader Community
The cTrader community is gaining popularity every hour, and investors are discussing all sorts of topics in the forum. The community supports discussions from cBot developers, strategy providers, long-term cTrader users and new ones. The forum is the perfect place to start a dialogue with the company. In the community there is also a business board to offer business to CTrader development experts. In addition, there is a list of verified consultants. You can download trading robots or custom indicators sent by the user. There is also a list of VPS providers verified by Spotware for having a good connection with cTrader. Whether you are a beginner or an experienced investor, these features of the CTrader community will surely work for you.
---
Company Profile
Since Spotware first launched the cTrader platform in 2011, FxPro was the first broker to offer it. Since then they have recorded other big names such as Pepperstone and IC Markets. The company experienced technical problems during the development phase, but these problems were not in the category of unsolved problems. Until recently, the company was led by its founder Andrey Pavlov. In mid-2018, the company was transferred to a new CEO, Alexander Shulman. Spotware has taken the term "investors first" as a trademark. It is undeniable that Spotware has a solid track record of delivering new features. Unlike MetaTrader, the cTrader platform is open to innovation. Not only are new features added, but the platform is constantly improving with new applications such as the cTrader Automate section, now available in the Web and Desktop version of cTrader.
---
Conclusion
Everyone agrees that cTrader has matured in recent years. Although it has the same basic principles that it had a few years ago, it offers much more today. If you've tried the CTrader before, but you feel some features are missing, try again. Parts you don't like or find missing may be developed. Or if you've been trading on MetaTrader4 for years, you can use it to try a different interface. If you are completely new to Forex trading, cTrader is one of the best options for you.
Metatrader's first real rival platform is trying to work its way up in the market with its upgradeable features.
PROS
A constantly evolving software
Social trade (copy trade)
C # programming language
CONS
Fewer brokers supporting
Not commonly used
Requires experience to use