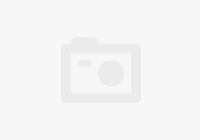 Binance
FxBul.com
3227
Crypto Currency
Add to wishlist
Added to wishlist
Removed from wishlist
1
Add to compare
Summary
In this review you'll find answers for following questions. Is Binance safe ? Is Binance safe to deposit? Do you recommend Binance? How to buy Bitcoins? We'll talk about using a Binance account, making a Binance transaction, how to open a Binance account and more.
Binance was founded in 2017 and is a relatively new company that allows its customers to exchange a wide range of cryptos. It was founded by Changpeng Zhao in China. Later, because of the Chinese government's regulations on crypto currencies, they moved their headquarters to Malta where they could operate freely.
Since all products in Binance are crypto currencies and altcoins, there are no supervisory issues. However, the Binance website has information that it is regulated by Virtual Financial Assets (VFA) in Malta.
---

			

			
back to menu ↑
Trading Accounts
When Binance was first established, it only provided crypto-exchange services. Then they added futures to this service. You can use a standard account if you want to trade crypto currency. But if you want to trade futures, then you need to open a futures account.
---
back to menu ↑
Registering an Account
Opening an account at Binance is easier than opening an email address. If you plan to make your deposit and withdrawal transactions with crypto currencies only, you will only be asked for your email address at the registration. Binance is a company that attaches great importance to security. Therefore, two-factor authorization is used. Each time you log in, you are asked to complete the two-factor verification step in addition to your password. This can be done by receiving SMS message on your phone, or you can complete your second verification by installing Google Authenticator on your phone.
When you use a brand new account, you can immediately deposit and start trading without any authentication, but there will be restrictions on daily deposits and withdrawals. The limits  are actually very large numbers, so you may never remove these restrictions later. The upper limit for daily transfers is set to 1 BTC for unverified accounts, so if you don't need to transfer 1 BTC every day, you can continue trading without completing the Know Your Customer (KYC) verification.
If you want to complete the verification, here are the steps that you should take;
  1. Go to your dashboard and click Identification
2. Choose the personal account for individual traders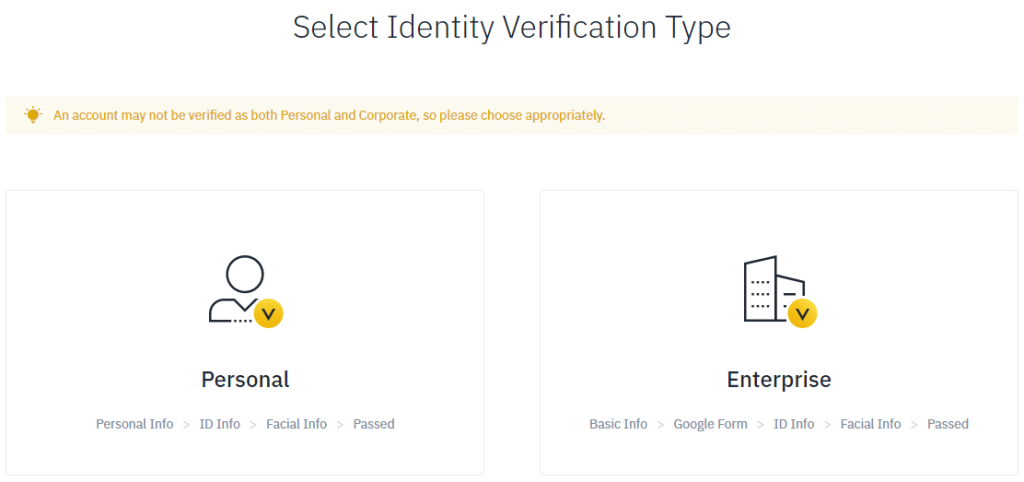 3. Fill the form about your personal information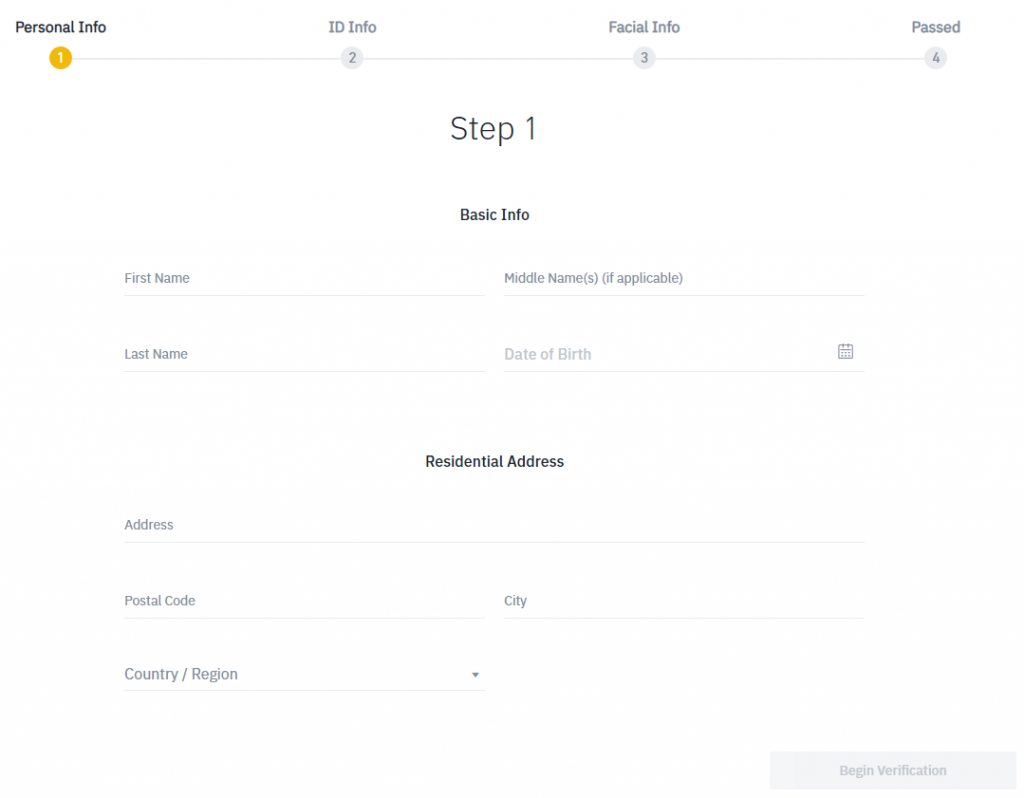 4. Upload your identity card or passport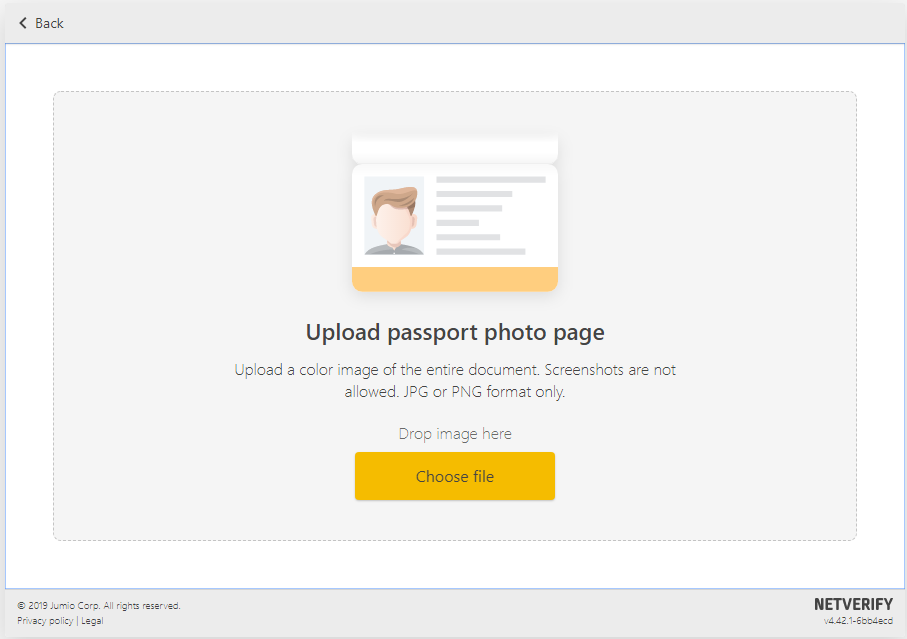 5. Then upload a selfie of yourself. Photos that you cut from other photos or IDs will not be accepted at this step. You should take a selfie with your phone where your face is clearly seen. After you send your photo, you'll be directed to this page.

6. Download the Binance app to your smartphone (it is available for both android and IOS operating systems) then scan the QR code with the QR code scanner of the app, which is located at the top left corner.
7. Right after you scan the code the app will try to take a selfie of you and compare it with other selfie that you uploaded to make sure that you uploaded your own photo. When you take the second selfie the app will ask you to nod your head probably to see every details of your face or they are just mocking with us.
The KYC verification will be competed after this step. The notification told us that the documents will be verified within 1 to 3 business days but surprisingly we received an email just 15 minutes after we completed the verification.
---
back to menu ↑
Deposit and Withdrawal
No commission is required to deposit cryptos into your account. Binance accepts deposits in more than 100 different currencies. After selecting the currency you want to deposit as shown in the image below, you can deposit the same currency to your wallet. It is important to choose the right wallet at this step. If you try to send a BTC to the ETH wallet, your transfer will not take place.
You can easily transfer directly from another crypto wallet to your Binance wallet, or you can purchase it from scratch with your credit card or bank transfer. It should be noted that around 3.5% commission is being charged for this purchase. You may also be prompted to authenticate.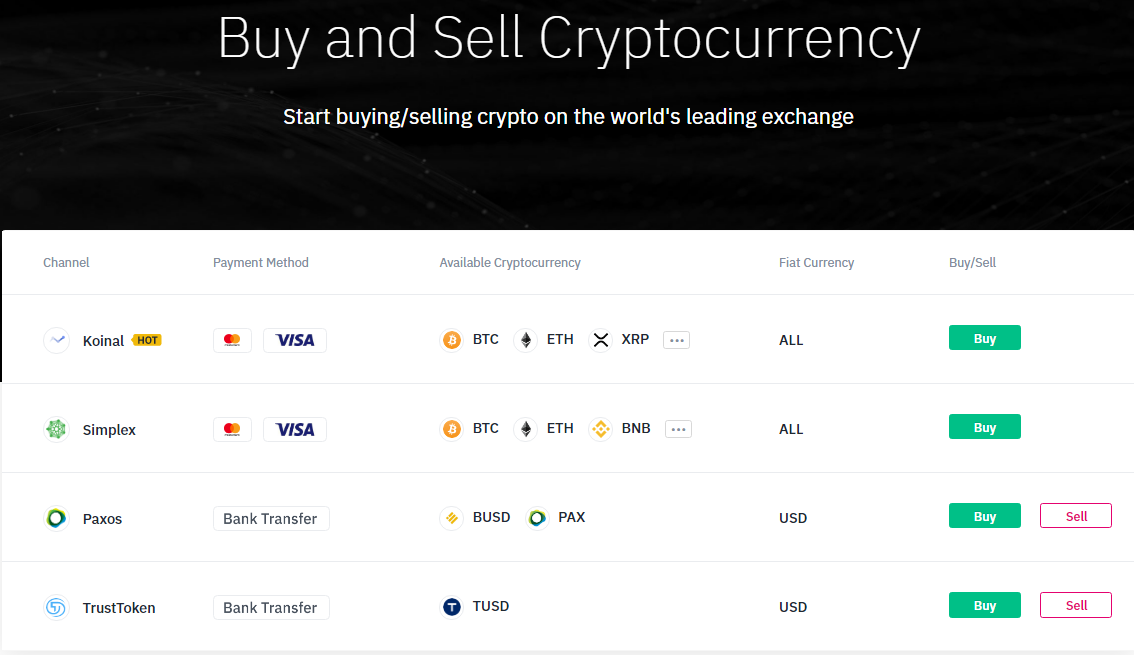 There is a small amounts of commission are charged for the currency you will withdraw. For example, 0.0005 BTC for BTC withdrawals or 0.005 ETH for ETH withdrawals. It is possible to find the entire commission list on the site.
---
back to menu ↑
Trading Platforms
Binance supports its own web-based trading platform. This platform is also available in a mobile version. The platform comes with two options, simple and advanced.
There are no major changes between the two versions. Both can be used easily to make transactions, you can use your preferred one. The simple version is designed with a light background, while the advanced version has a darker theme. The images of both versions can be found below.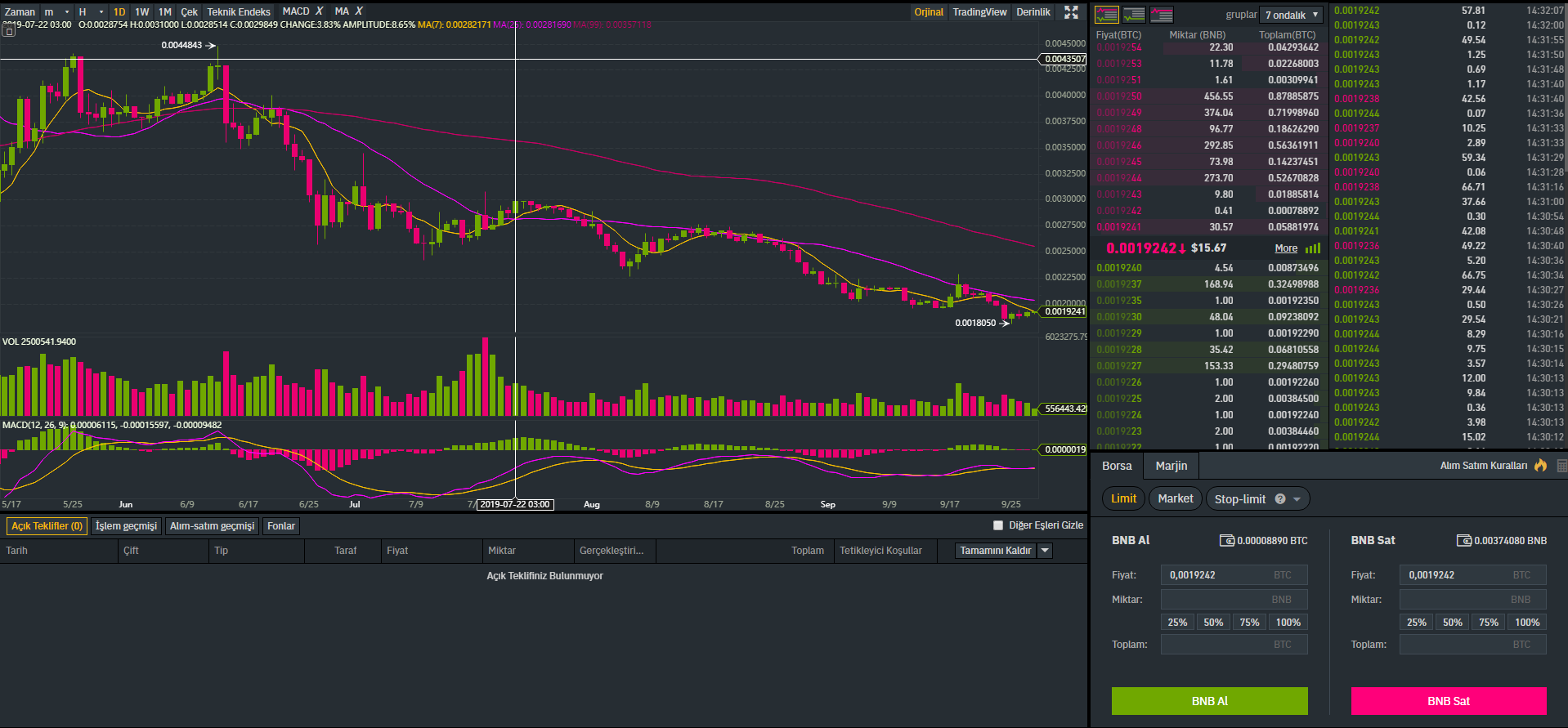 The market depth is supported, just like most of the crypto currency exchange platforms. You can also use market orders or pending orders at Binance.
---
back to menu ↑
Products, Spread and Commissions
You can rest assured that Binance will provide more than you need in terms of number of tradeable products. More than 500 cryptos are supported and new ones are added every day. Some of the main currencies used against altcoins are Bitcoin, Ethereum, Bitcoin Cash, Litecoin and EOS.
You have to pay a small amount of commission each time you perform an exchange. This amount is generally around 0.1%. Binance has the option to pay with BNB to help you reduce your costs. 50% less commission is charged if you choose to pay your expenses with Binance Coin (BNB), Binance's own cryptocurrency. To do this, you have to turn on the option to pay with BNB and have some BNB in ​​your wallet to cover the charges. For each purchase you pay 50% less by paying the commission with BNB from your wallet. Hereby, Binance adds value to its own money by forcing their customers to keep some BNB in their wallet and charges less commissions from you in return.
---
back to menu ↑
Bonuses
Binance regularly organizes competitions and distributes gifts. You can find the promotions during the review period below.
Binance Futures 200,000 USDT welcome bonus. Win bonuses up to 20 USDT
Binance JEX Futures loyalty bonus
50% discount on commissions for futures account
Lifetime 10% commission discount for new clients.
NPXS Trade competition.
---
back to menu ↑
Customer Service
Binance customer service is available 24/7 via ticketing or live chat. Binance does not provide customer support by phone. When Binance was first launched, it failed to respond to a high number of customer demands and even had to stop new customer registrations for a period of time. In time, the company has developed their customer support lines, they can easily meet the demand now. The Binance support team is also available on Twitter and Telegram's social media channels to help customers solve their problems.
---
back to menu ↑
Conclusion
To wrap it up, it is possible to say that Binance is one of the leading crypto currency trading platform in the World. Low commission rates, wide product options and strict security practices add strength to the company. Although it is a fresh company which was established in 2017, we must draw attention to the distance Binance has taken and its growth rate. With an incredibly large daily volume of crypto currency, the company is clearly one of the largest crypto trading platforms in the World. We can finish our review by stating that Binance is a reliable and high quality option to trade crypto currencies.
---
Tags: is Binance reliable, is Binance reliable, is Binance safe, is Binance safe, Binance review, Binance reviews, Binance entry, Binance demo, Binance comments, Binance users, Binance register, Binance open account, Binance login, Binance contact, is Binance regulated, Binance forums, Binance experiences, do you recommend Binance, Binance user reviews, Binance thoughts
| | |
| --- | --- |
| Location | |
| Regulators | VFA |
| Trading Platforms | Special Platform |
| Tradeable Products | Crypto Currencies |
| Leverage | None |
| Islamic Swap-Free Account | No |
| Minimum Deposit | No lower limits |
| Money Transfer Options | |
| Multilingual Customer Support | No |
PROS:
Well-known company
Number of tradeable products
Low commissions
Security
CONS:
No short-sale
Take profit and stop loss orders are inefficient