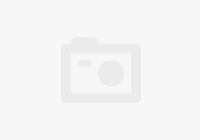 PrimeXBT
Add to wishlist
Added to wishlist
Removed from wishlist
1
Add to compare
Summary
PrimeXBT was founded in 2018 and is a crypto currency, forex and CFD brokerage firm based in the Seychelles. They provide Bitcoin based accounts for crypto, forex and CFD trading. They also offer leverage and short sale option. Leverage, bi directional trading and combination of forex and crypto currencies makes PrimeXBT a hybrid broker. Although it is a new company, it serves customers from more than 150 countries.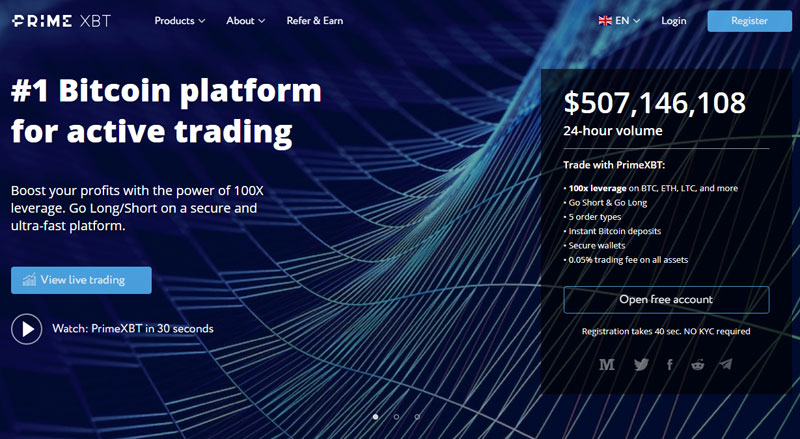 ---

			

			
back to menu ↑
Trading Accounts
Just like all other bitcoin markets, there is a single account type. PrimeXBT, provides the opportunity to trade both forex and leverage in cryptops, forex parities and CFDs. At the same time, the company applies different leverages for different products. 1: 100 leverage offers $100 of buying and selling power with only $1. Thanks to the leverage, you don't need to deposit a large amount, you can make profit by making high volume transactions but you should not forget that leverage increases your losses just like gains.
---
back to menu ↑
Registering an Account
The fun part of PrimeXBT starts here. The company provides complete privacy for its users. There is no KYC (know your customer) verification. Therefore, you do not have to prove your identity or address to anyone. There are no procedures such as surveys, questions, etc. for you to answer. You can do your transactions under a complete confidentiality. The only information requested from you is your email address and password.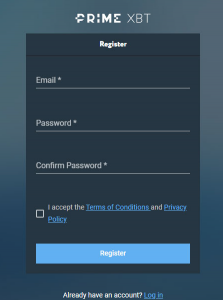 ---
back to menu ↑
Deposit and Withdrawal
You should be able to guess the answer to the question of how to deposit or withdraw money to a Bitcoin-based company. Yes, they are done with BTC. This means that you can send BTC from your BTC account in any country to the company instantly and with low commission, this transfer method is far ahead of its competitors in terms of speed. You can also buy bitcoin instantly with your credit card from the company site. When you want to withdraw money from your account, just like you send bitcoin to someone else, you can withdraw it from your PrimeXBT wallet to another wallet.
No commission is charged for deposits, but a small commission is charged for withdrawals. You have to pay 0.0005 BTC (4-5 Us Dollars) for BTC transfers. Minimum deposit for BTC is 0.001 BTCs (about 10 usd).
---
back to menu ↑
Trading Platforms
PrimeXBT has a dedicated web-based platform that we find very useful. When we compare this platform with other webtrader applications, we can say that it is more complex, adaptable and easy to use.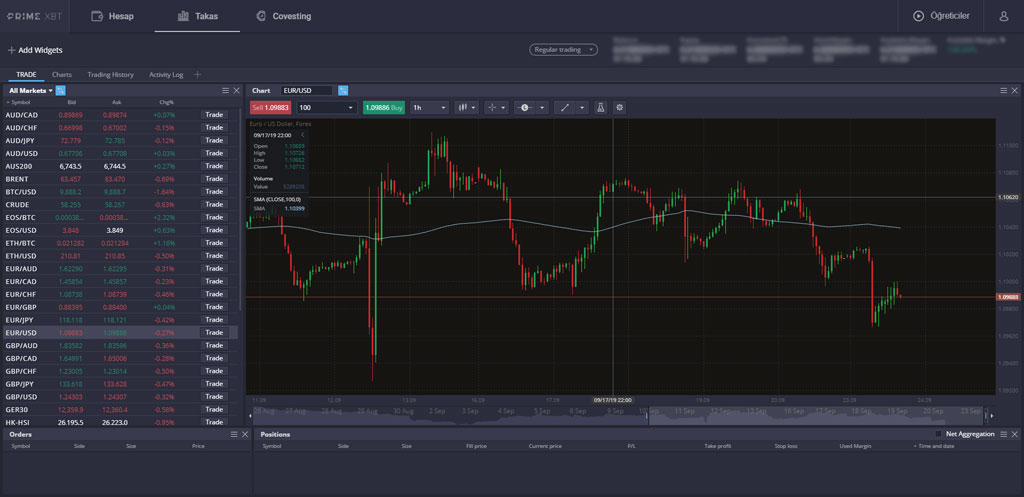 Platform allows you to customise the apperance. You can edit and save graphic elements, window sizes, graphic and background colors according to your wishes. Almost all of the indicators in Metratrader are made available to investors on the platform.
You can divide you screen into 4 or 6 sections and display a chart on each of them. Being able to adjust the dimensions of the sections is a handy option.
---
back to menu ↑
Products, Spread and Commissions
In terms of product diversity, PrimeXBT provides 39 different products such as major forex parities, some CFDs and indices and major cryptocurrencies. It would be pointless to compare the number of cryptocurrencies with a non-leveraged cryptocurrency platforms since they provide thousands of altcoins, but it can be considered moderate among firms offering leveraged crypto transactions. When we examine spreads, we can say that they are comparable to many ECN companies. You can view all products and spreads in the image below.
Update 30/01/2020
The number of tradeable products was increased from 39 to 59 by adding some pairs including NZD, CAD and TRY.
Tradeable products and spreads
---
back to menu ↑
Bonuses
During the review period, we did not encounter any promotional announcements on the website.
---
back to menu ↑
Customer Service
The Prime XBT customer desk operates 24/7. The support team is knowledgeable, courteous and eager to help. The team currently speaks only Russian and English.  They provide support via email and live chat. Emails to the support team are answered after a few hours. An email sent at night was answered in the morning. Live chat is available on the website and on the trading platform. Chat assistants give quick answers. It took just a few seconds to get a response when a chat session started. Sometimes, you may not need to start a chat session, chat assistants start the chat by asking how they can help. They don't provide support through phone yet.
---
back to menu ↑
Conclusion
PrimeXBT, traders have the opportunity to invest in crypto currency with a beautiful interface. The trading platform is easy to use, adjustable. Commissions and spreads are good, can be considered as a leading firm. The company is fairly new, you can register now and start trading. Unfortunately PrimeXBT don't provide demo accounts for traders.
Since the company's history is not very long, we advise you to be careful at first unless you can prove it for a long time. We recommend that you send enough crypto to the company just enough to trade and keep your savings in a cold wallet.
As with all types of stock exchanges that provide leverage, we advise you to act carefully if you have not previously traded this way. Leverage can provide you with very good returns as well as big losses. Therefore, if you do not have enough equipment about the market is very likely to be damaged.
Tags: is Prime XBT reliable, is Prime XBT reliable, is Prime XBT safe, is Prime XBT safe, Prime XBT review, Prime XBT reviews, Prime XBT entry, Prime XBT demo, Prime XBT comments, Prime XBT users, Prime XBT register, Prime XBT open account, Prime XBT login, Prime XBT contact, is Prime XBT regulated, Prime XBT forums, Prime XBT experiences, do you recommend Prime XBT, Prime XBT user reviews, Prime XBT thoughts
| | |
| --- | --- |
| Location | |
| Regulators | VFA |
| Trading Platforms | Special Platform, Special Mobile App |
| Tradeable Products | Forex, CFDs, Crypto Currencies |
| ECN Order Processing | No |
| Number of Products | 59 |
| Leverage | 1:100 |
| Islamic Swap-Free Account | No |
| Minimum Deposit | 10$ |
| Money Transfer Options | |
| Multilingual Customer Support | No |
| Micro Lot Trading (0.01) | Yes |
| Spread Index | 10.5 |
PROS:
No formality, KYC verification
Bitcoin deposits and withdrawals
Leveraged crypto transactions
Short sale option
CONS:
No PC software
No API support
Limited number of products